Welcome to Support Service (Maintenance, Housing, Security, and Transportation)

If you need to submit a work order for your room you're just one click away. School Dude is our online work order system that gives you all the tools you need to make any maintenance and IT (computer and networking) issue a simple fix!

All issues will be taken in the order they are received. Requests are subject to priorities, ie. financials, health, and safety.
Please submit a SchoolDude IT Requests for all computer and networking issues. All issues will be taken in the order they are received. Requests are subject to priorities, ie financials, health, and safety.



School Dude Guide (must be logged in your google account)



Login issues?



Contact Bonnie Johnson at bjohnson@shontoprep.org.

If you are NOT a returning user-you are a new teacher or have never used the SchoolDude ticketing system-follow the instructions below to set your personal SchoolDude password.

- Click on the SchoolDude link and click the down arrow to open the registration form.

- If the account number is not automatically assigned, the account number for SPS is 458874201 and fill out the rest of the form. Please use your school assigned email.

- Click Register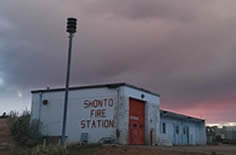 FAX: 928-672-3503
Jason Secakuku
Director of Support Services
928-672-3510
Lena Clitso
Administrative Assistant
928-672-3545
Curven Begay
Lead Security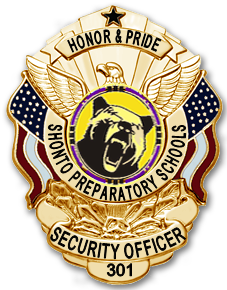 Campus Security Direct Line: 928-206-9280
Weekend Admin on Duty

Hours from Friday 5 PM to Monday 8 AM (Holiday weekend hours may differ).

New Housing Tenants
Fill and sign all SPS Rental Application documents;
Have them sign by the Director of Support Services, Jason Secakuku;
You will then take the forms to NTUA to set up the utilities in your name;
We will need a $300.00 deposit. There are two options, you can pay it at the business office or by payroll deduction, see Business Office;
If you have a pet, you are required to pay a $50.00 pet deposit.
Our mission is to provide the very best busing service for the students of the Shonto Preparatory School in a safe, timely, courteous and efficient manner.

Student Safety Tips

Most serious school bus incidents occur when children are outside buses and most involve children under the age of nine.

10 Simple Rules

Help keep children safe by teaching 10 simple safety rules:

1. Be early for the bus.
2. Never run to or from the bus.
3. Be alert and stand back from the curb.
4. Don't push or shove.
5. Stay in your seat.
6. Don't yell or shout.
7. Always obey the driver.
8. Wait for the driver's signal before crossing the street.
9. Always walk at least 12 feet (6 giant steps) in front of the bus.
10. Never crawl under a school bus.

Keeping Children Safe at Bus Stops

Adults should go with children to, and meet children at, yellow bus stops. This is required for kindergarten students.

Remove Drawstrings

Drawstrings on clothing can catch in school bus doors, as well as on playground equipment, fences and escalators. Remove or shorten drawstrings on children's shirts, jackets or backpacks, or replace drawstrings with another kind of fastener that does not have a knot on the end.

Avoid Using Gadgets Near Buses

Headphones, cell phones and MP3 players are examples of gadgets that can distract children from knowing when a bus is approaching. Urge your children to wait to use gadgets such as these until they are a safe distance from the bus.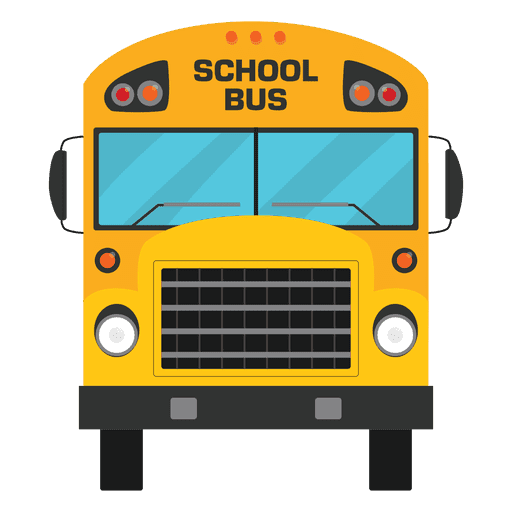 Eugena June
Lead Bus Driver
928-672-3511
Parents/guardians should help children learn about the bus "Danger Zones," such as the bus' wheels, front and rear. School buses will park bumper-to-bumper in a loading zone to prevent students or adults from walking between buses. Teach your child to stay at least 12 feet (6 giant steps) away from a parked school bus.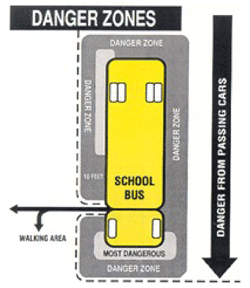 Tips for crossing the street safely:

STAY on your side of the road - far back from the road edge and away from traffic.

WAIT for the bus to stop and LOOK for the driver's signal to cross the street. Making eye contact with the bus driver is critical to safely crossing a street.

CHECK traffic both ways - then check again.

CROSS the street directly across, checking traffic both ways.

WALK about 12 feet (6 giant steps) ahead of the bus' bumper

BOARD the bus quickly.
Tips for crossing the street safely after getting off the bus:

WALK along the side of the road until you can see your bus driver.

STOP and wait for the signal to cross from the driver.

LOOK for traffic both ways. If you see a vehicle that has not stopped, go back to the bus immediately.

CROSS the road quickly after all vehicles have stopped. Exiting the Bus