Box Out Bullying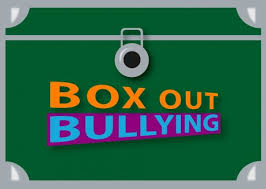 ---
Ahéhee' Ntsaaígoo!
Box Out Bullying was a SUCCESS!
Thank you ALL for your participation and lets continue to spread awareness on anti-bullying in our classroom(s), hallways, cafteria, to riding the bus. Please continue to engage our students daily in preventing bullying and teaching our students how to identify, reporting and standing up to bullying safely.
Let's be the one(s) to communicate that Bullying is NOT acceptable in our school commuities.
Here are three reminders in navajo for students to become familiar with, to use to identify and preventing bullying. Self-identifying and recognizing.
K'adí-Stop
Noweh-Leave it alone
Dooda-No
Justice M. Beard
K-8 Dean of Students
Shonto Preparatory Schools